H. P. Lovecraft Film Festival® & CthulhuCon - Mobile, AL
Join us in beautiful, creepy, and historic Mobile, Alabama as we bring the H. P. Lovecraft Film Festival for the very first time to the South, at the beautiful 1927 Saenger Theatre and downtown Mobile Holiday Inn, November 3-5, 2023. Three days of books, gaming, guests, and, of course, short and feature films inspired by or adapted from the works of H. P. Lovecraft and his contemporaries and forebears, like Clark Ashton Smith, Edgar Allan Poe, Robert W. Chambers, Frank Belknap Long, and more. This is going to be a bit more convention-style than we typically host, with gaming areas, panel discussions, and a full vendors room.
Why Mobile? The south has a fantastic convention scene brimming with our kind of fans... demented/enlightened minions of Cthulhu! It's no surprise, since they practically invented the Mardi Gras parade, popularized by New Orleans (only a two hour drive away). Flying into and staying in historic downtown Mobile is easy, and the city is fascinating with amazing bookstores, historic theaters, and stately hotels. Oh, and ghosts. They have plenty of those!
More details and tickets coming soon! In the meantime, join our low-volume announcements list here to stay in the loop on ticket availability, film and guest announcements, and/or join our official Facebook event here.
A small sampling of the films and guests coming to Mobile!
We'll be updating this frequently, so check back often (or join our email announcement list above) for updates.
Feature Films
Short Films
Friday, August 11, 2023 - 6:45pm
Book your room for Mobile, AL, November 3-5th!
Traveling to Mobile, AL for our newest H. P. Lovecraft Film Festival® & CthulhuCon™ event?
Our host hotel, The Holiday Inn Mobile/Downtown Historic District is also CthulhuCon HQ for the festival! The Mall of Cthulhu vendor room, Panel Discussions, Author Readings, Gaming, and other live interactive activities will be held here. It is a short 3 min walk (2 blocks) from the Saenger Theatre where Friday and Saturday film events will take place.
You can book your room at our discounted group rate of $125/night + taxes for single (1 bed) or double (2 beds) from now until October 20, 2023.
Reserve online:  HPLFF Guest Group Block Online Booking Link
Or call to reserve: 1-888-465-4329  and the Courtesy Group Block Code is LFF. Be sure to give them this code to get our group rate!
To see all the amenities the hotel has to offer, visit the Holiday Inn Mobile Downtown website.
Tuesday, July 25, 2023 - 3:45pm
SUITABLE FLESH premiering at the H. P. Lovecraft Film Festival
SUITABLE FLESH directed by Joe Lynch, adapted by Dennis Paoli (screenwriter of RE-ANIMATOR and FROM BEYOND) from Lovecraft's story "The Thing on The Doorstep", starring Barbara Crampton and Heather Graham, will be making it's Providence, RI premiere at the H. P. Lovecraft Film Festival at the Columbus Theatre, August 18-20 (GET TICKETS HERE), and its Pacific Northwest premiere at the H. P. Lovecraft Film Festival in Portland, OR on October 6-8, AND playing the new HPLFF in Mobile, AL on November 3-5! How's that for a series of premieres for this NEW CLASSIC!
This film feels like an old-school Stuart Gordon film, due in large part to the screenplay by Dennis Paoli, but has a beautiful neo-noir atmosphere courtesy of director Joe Lynch and cinematographer David Matthews. Lovingly shepherded by producer Barbara Crampton (who starred in several of Stuart Gordon's Lovecraft films), this is a love letter to Lovecraft fans who long for the kind of sexy horror most of us cut our teeth on. It takes Lovecraft's story, flips the script so that Upton and Derby are women, and ratchets up the potential of the tale to erotic, sinister, and frankly insane heights.
In the film, successful psychiatrist Elizabeth Derby (Heather Graham) has brutally murdered her young patient Asa Waite (Judah Lewis). Locked up in a psych ward, she recounts to her friend Dr. Daniella Upton (Barbara Crampton) an insane, obsessive tale of erotic attraction, out-of-body experiences, ancient curses, grisly deaths and unspeakable evil. The things Elizabeth has felt, seen and done have destroyed her marriage, ruined her reputation, left bodies in her wake, and led her to a 'kill or be killed' desperation. If Daniella doesn't believe her now, more deaths will follow, and Elizabeth will be forever lost. But who would believe such a mind-bending story? And worse, if it is all true, who will be left to tell it?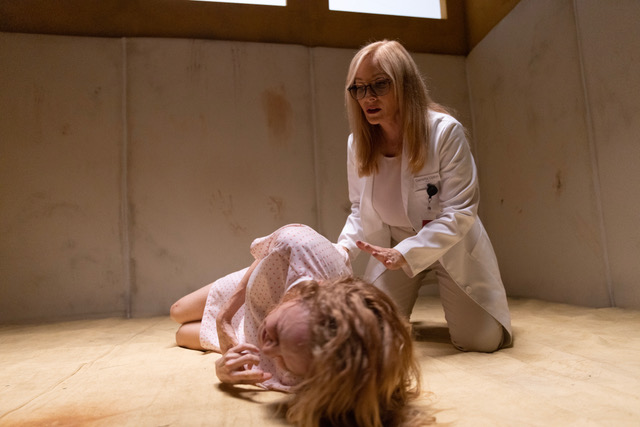 Barbara Crampton as Dr. Upton comforts Heather Graham's Elizabeth Derby in the psych ward.
Get Tickets to the Providence event, August 18-20th.