Tuesday, July 25, 2023 - 3:45pm
SUITABLE FLESH premiering at the H. P. Lovecraft Film Festival
SUITABLE FLESH directed by Joe Lynch, adapted by Dennis Paoli (screenwriter of RE-ANIMATOR and FROM BEYOND) from Lovecraft's story "The Thing on The Doorstep", starring Barbara Crampton and Heather Graham, will be making it's Providence, RI premiere at the H. P. Lovecraft Film Festival at the Columbus Theatre, August 18-20 (GET TICKETS HERE), and its Pacific Northwest premiere at the H. P. Lovecraft Film Festival in Portland, OR on October 6-8, AND playing the new HPLFF in Mobile, AL on November 3-5! How's that for a series of premieres for this NEW CLASSIC!
This film feels like an old-school Stuart Gordon film, due in large part to the screenplay by Dennis Paoli, but has a beautiful neo-noir atmosphere courtesy of director Joe Lynch and cinematographer David Matthews. Lovingly shepherded by producer Barbara Crampton (who starred in several of Stuart Gordon's Lovecraft films), this is a love letter to Lovecraft fans who long for the kind of sexy horror most of us cut our teeth on. It takes Lovecraft's story, flips the script so that Upton and Derby are women, and ratchets up the potential of the tale to erotic, sinister, and frankly insane heights.
In the film, successful psychiatrist Elizabeth Derby (Heather Graham) has brutally murdered her young patient Asa Waite (Judah Lewis). Locked up in a psych ward, she recounts to her friend Dr. Daniella Upton (Barbara Crampton) an insane, obsessive tale of erotic attraction, out-of-body experiences, ancient curses, grisly deaths and unspeakable evil. The things Elizabeth has felt, seen and done have destroyed her marriage, ruined her reputation, left bodies in her wake, and led her to a 'kill or be killed' desperation. If Daniella doesn't believe her now, more deaths will follow, and Elizabeth will be forever lost. But who would believe such a mind-bending story? And worse, if it is all true, who will be left to tell it?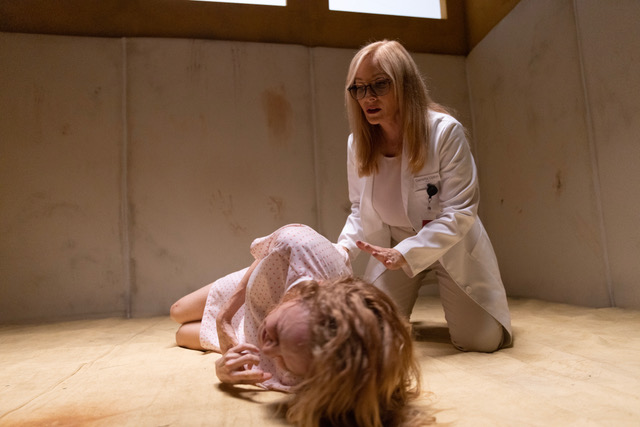 Barbara Crampton as Dr. Upton comforts Heather Graham's Elizabeth Derby in the psych ward.
Get Tickets to the Providence event, August 18-20th.