Monday, October 14, 2013 - 12:15pm
Re-Animator on 35mm and Lovecraftian short films this weekend in Portland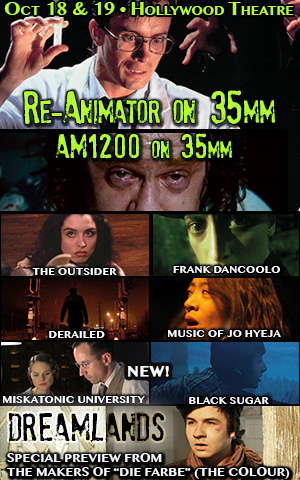 Join us Friday, October 18 and Saturday, October 19 (9:40pm both nights), for the Best of the H.P. Lovecraft Film Festival short films and a rare showing of Re-Animator on 35mm.
We have an amazing lineup of short films on Friday night, including the audience favorite AM1200 on 35mm, recent favorites like "Frank Dancoolo: Paranormal Drug Dealer," "Bedtime For Timmy," and "The Music of Jo Hyeja," and ancient classics like "The Outsider."
But, that's not all, we're also giving you a look at early selections for the H.P. Lovecraft Film Festival & CthulhuCon in April. You're going to love the Portland premieres of "Black Sugar," "The Void," and "Miskatonic University." Click here for the full schedule of films, and buy your tickets early!