This page has information on the venue, public transportation, local eats, hotel accommodations.
The Portland Venue
All Films and most live events take place at The Hollywood Theatre, built in 1926. Over the years, the Theatre has seated audiences for vaudeville shows, silent films accompanied by live orchestration, Cinerama and more.
The theater is located on 4122 N.E. Sandy Blvd. in Portland Oregon, on the cross-streets of N.E. Broadway and 41st Avenue. The Hollywood Theatre does not have its own parking lot. However, street parking is available. Locate using Google Maps
Most Literary events will take place at the Hollywood Public Library, located at 4040 NE Tillamook Street, just a few blocks away from the theater.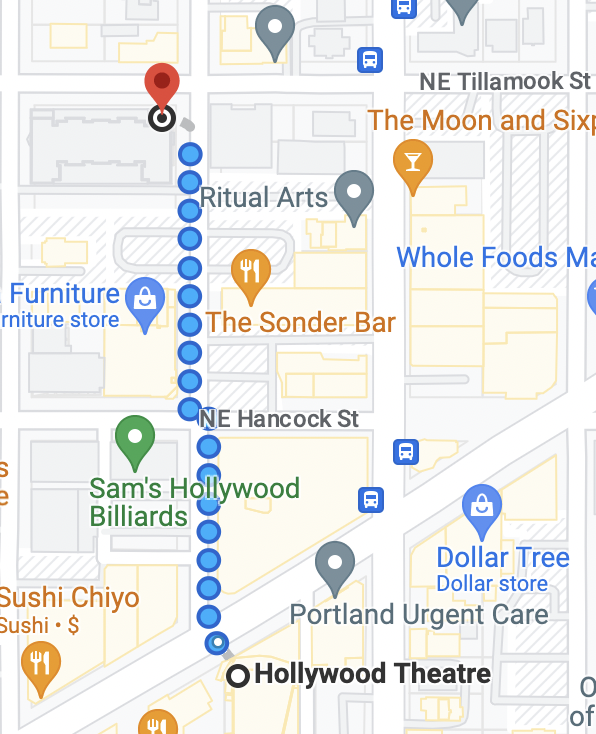 Main Hotel for 2023:
For 2023, The DoubleTree Portland has given us a courtesy rate of $149/night + tax for 1 Queen bed, or starting at $164/night + tax for 2 Queen beds. Located at 1000 NE Multnomah, near Lloyd Center, the DoubleTree is right on the MAX light rail and is one stop from the Hollywood district. There are a limited number of rooms available, and this hotel usually sells out. To take advantage of the discounted rate, please book by September 15, 2023.
To reserve online, CLICK HERE for the DoubleTree by Hilton group reservation page.
---
Public Transportation
The theater is conveniently accessible by mass transit, via MAX (our lightrail system) or bus lines 12 (on Sandy Blvd), 66x, 75, or 77. Your stop: Hollywood Transit Center. Walk north two blocks to the theater. From the Airport you can take the RED line (CITY CENTER / HILLSBORO) and get off at the Hollywood District stop, then take the elevator (or climb the stairs) to the pedestrian walkway go north and walk 2 blocks to the theatre.
Lyft and Uber
Lyft and Uber both operate in Portland, OR. Both are inexpensive alternatives to Radio Cab and can be more convenient than taking the Bus or the MAX light rail. BUT, as with any ride-sharing app, please be safe and let people know where/when you're heading somewhere in a Lyft or Uber. Don't be afraid to talk to your fellow attendees, people are pretty friendly here in Portland and if you're all going to the same place, there's safety as well as economy in numbers.
Accessibility
The downstairs auditorium at the theatre is wheelchair accessible. There's a virtual tour on the Hollywood Theatre website, so you can see what the hallways and entry areas look like.
Food & Drink
Portland's historic Hollywood District features a wide variety of delicious foods and eateries, for practically any budget, although it should be noted that few will accept ancient Sumerian gold. The restaurants and eateries below are close to the theater, but if you are willing to venture further into the madness of Portland, then the world can be your unspeakable oyster!
More Accommodations
Check out Portland CitySearch for Portland hotels in general. The theatre is two blocks north of the Hollywood Max Station for the light rail Red/Blue lines that service downtown and the airport. Here is an incomplete list of hotels and other lodgings near the theater. Please note that although festival attendees have stayed at these hotels this listing should not be viewed as a particular endorsement.
More budget hotels... These are further away between the theatre and the airport but are walking distance to the Max Light Rail Tri-Met train system.
Visiting Portland
Welcome to Portland! With a thriving half-a-million-plus population, Portland is situated in an ideal geographical region, with oceans, mountains, hikes, waterfalls, and a wide variety of landmarks and interests usually within a short drive. Portland proper, a cultural mixing pot, boasts a metropolitan-class variety of shops, dining, entertainment, and other diversions guaranteed to occupy even the most avid flâneur. Portland's public transportation is affordable, convenient and, in fact, features a major light rail hub mere walking distance from the Hollywod Theatre. Wikipedia features a very comprehensive writeup for Portland, and is a little more realistic than the official one at Portland Online.