Oh, Whistle...: Two Ghost Stories by M.R. James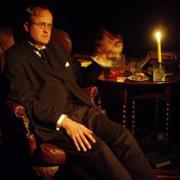 Over a century after they were first published, the ghost stories of M R James retain their power to terrify and amuse. Following his critically acclaimed one-man show A Pleasing Terror Robert Lloyd Parry brings two more of James' classic spine-chillers back to life.
"Oh, Whistle, and I'll Come to You, My Lad" - a tale of nocturnal horror on the Suffolk coast - is considered by many to be author's masterpiece. It is beautifully complemented here by "The Ash Tree", a story of witchcraft and vengeance down the generations.
Suitable for ages 13+
Performance lasts approx 100 minutes including interval.