Monday, September 4, 2017 - 12:15am
Backers of the 2017 Festival Kickstarter campaign take home Cthulhu Mardi Gras beads and more!
Our yearly H. P. Lovecraft Film Festival Kickstarter campaign is underway for the 22nd Annual festival, taking place October 6-8, 2017 at the Hollywood Theatre in Portland, OR!
The campaign launched about 9:30pm on August 31st, and thanks to the amazing Lovecraftian community, it funded the next evening before 10pm, in less than 25 hours! We are so thankful to have so many great audience members from all the dark corners of the Earth. The campaign ends on September 15th, so there's still time to pick up our custom Cthulhu Mardi Gras rewards, as well as ticket packages with tons of extra goodies, made just for this campaign. This is going to be an awesome year, with guest of honor, F. Paul Wilson (The Keep, Repairman Jack), Philip Gelatt (Europa Report, They Remain), Tim Uren (Dexter of "Chuck and Dexter", star of "The Curse of Yig"), plus almost 20 hours of Lovecraftian short and feature films, a LIVE radio play production by the H. P. Lovecraft Historical Society, and much, much more.
You can back the campaign to get cool rewards in the mail, even if you can't come to the festival.
The Kickstarter is the only place to get Deluxe and VIP Ticket packages for those attending the fest, but even if you can't come to the festival, you can get a Cosmic Horror Care Package filled with Cthulhu Mardi Gras beads, doubloons, a Cthulhu bauta mask, and more fun stuff, like Kickstarter-exclusive T-shirts. These are items we're producing to support the festival, and you can support it to by pledging for them!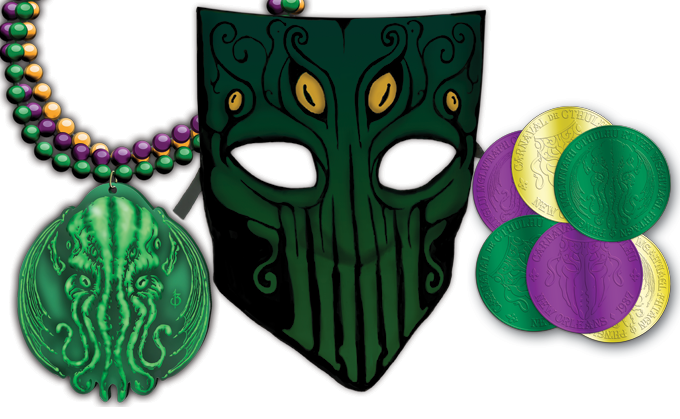 Shown above: artist renderings of Cthulhu Mardi Gras beads, traditional bauta carnival mask (but with a Lovecraftian twist), and shiny Cthulhu doubloons.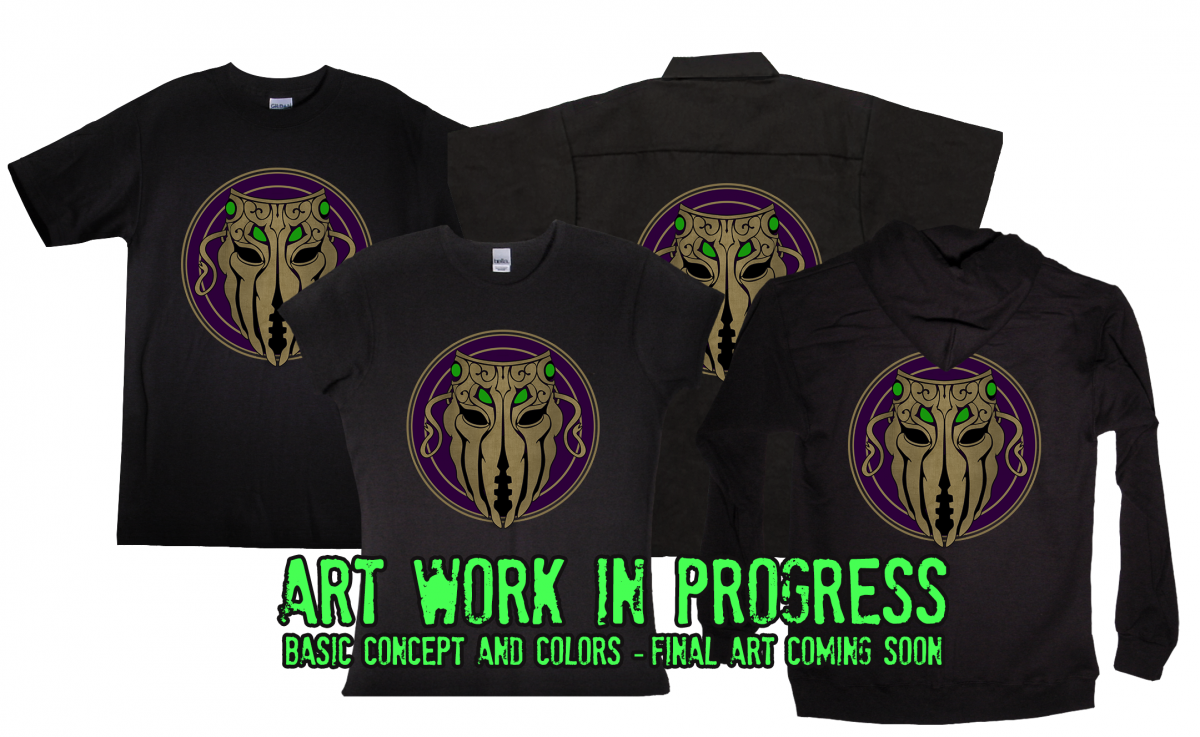 Apparel design sneak peek for this year's EXCLUSIVE T-shirts, babydolls, work shirts, and hoodies. You can't get 'em after the campaign ends, so pledge now.
Help us maintain the Only Festival That Understands here in Weird Portland, by backing the H. P. Lovecraft Film Festival Kickstarter campaign. Support it to get the neat exclusives in your mailbox, support it if you want to come to it and have a more awesome experience, or just support it to be supportive.