Tuesday, July 11, 2017 - 5:00pm
Best of 2016 and Dead Tongues DVDs Now Available
Our new Best of 2016 Short Film Collection DVD is now available! PLUS we got ambitious and decided to release our first feature film DVD, showcasing 2016's "Best Feature" Award-winning Dead Tongues (but the disc also includes two more bonus short films).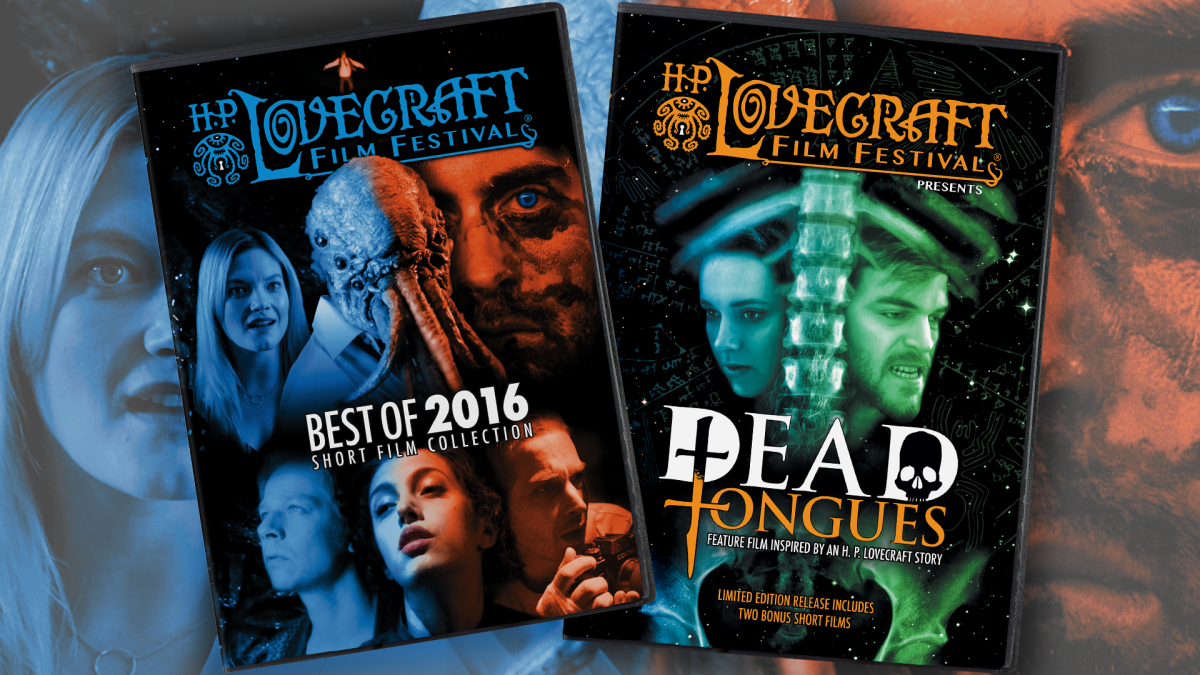 As of this writing, both are available for pre-order, with a release date of July 18th, and an anticipated shipping date of about June 26th. Come see us at the Sigh Co. Graphics/Arkham Bazaar booth at San Diego Comic-con Booth #523 to get your copy, or pre-order online at Arkham Bazaar to secure yours and be among the first to receive it (before it hits Amazon.com)!
The Best of 2016 Short Film Collection DVD includes these amazing films from the 2016 festival, comprising both original stories and Lovecraft adaptations, with humorous takes on the Mythos, as well as soul-searing films that question our place in an uncaring universe and what separates the human from the monstrous:
"Speaking in Tongues" (US) by Thomas Nicol
"Vardøger" (France) by Ludovic de Gaillande
"Poetry & The Gods" (France) by Louis Rossignol
"Tale of Wingate's Journal" (US) by Jeremy Peterson
"Zerch" (Mexico) by Xavier Velasco
"The Call of Charlie" (US) by Nick Spooner
"The Bone Garden" (US) by Monsieur Soeur
"Hypnos" (Finland) by Juho Aittanen
"The Package" (US) by Eric Morgret
"An Eldritch Place" (Belgium) by Julien Jauniaux
PLUS:
Bonus Music Video "The Calling" from Infinite Spectrum's latest concept album "Haunter of the Dark," based on the story by H.P. Lovecraft
Highlights from the 21st Annual festival
Lovecraftian Film Trailers including Howard Lovecraft and The Frozen Kingdom
The Dead Tongues DVD includes:
Dead Tongues feature film dir. by Roberto Drilea and Brianna Dorn
WITH two bonus audience favorite short films
H. P. Lovecraft's The Beast in The Cave dir. by Cameron McCasland
INK dir. by Ashlea Wessel
PLUS Lovecraftian film trailers for The Creature Below and Badass Monster Killer!