Tuesday, August 20, 2013 - 5:31am
Best of the H.P. Lovecraft Film Festival featuring Re-Animator on 35mm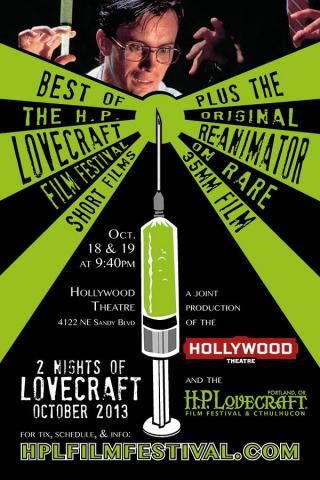 Two Nights of Lovecraft
Oct. 18 & 19 9:40pm
at the Hollywood Theatre
4122 NE Sandy Blvd, Portland, OR
PORTLAND, OR - Join us at the Hollywood Theatre for two nights of Lovecraft on film THIS OCTOBER, presented by the Hollywood Theatre and the H.P. Lovecraft Film Festival!
On October 18, 2013, come see a selection of classic and recent short films from the H.P. Lovecraft Film Festival, plus an exclusive preview of some of the films we'll be showing next spring! Then, on October 19, continue the madness with a small selection of short short films, followed by Stuart Gordon's classic Re-Animator on rare 35mm.
We often hear from the audience that they want their Lovecraft in October, so show us you mean it by marking your calendar and telling your friends about this special two night event!
Tickets on sale soon. Stay in touch by clicking here to join the Facebook event.