Tuesday, September 14, 2021 - 12:00am
Deluxe Ticket Packages are available now on Kickstarter!
The 26th Annual H. P. Lovecraft Film Festival® takes place October 1-3, 2021 in person at the historic Hollywood Theatre in Portland, Oregon, AND streaming online October 8-10th on Eventive. Whether you want to attend in person or stream from home, you can support the festival by pledging for deluxe ticket packages and exclusive rewards like our "Tillinghast Engine" T-shirts and lapel pins that won't be available for sale later.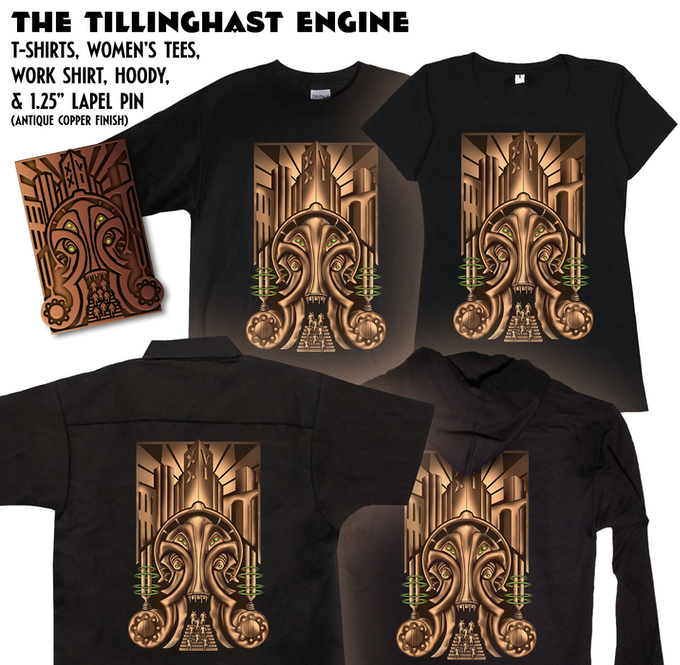 ATTEND IN PERSON: The in-person show October 1-3 will be a safe and fun fully vaccinated/tested event (all attendees will need to show proof of vaccination or recent negative PCR test), and masks will be required at all times. This will NOT be the crowded experience you remember from previous HPLFFs, and is your first chance in many years to see ALL the movies in one easy programming track, and enjoy the festival without lining up for seats in upstairs auditoriums! It has been designed to be a streamlined and safe experience for a limited number of people, with plenty of room to spread out.
STREAM FROM HOME: Our streaming event will happen the following weekend, October 8-10 on the Eventive platform where you can watch the festival on a computer browser or in the Eventive app on Roku, Amazon Fire TV, or Apple TV. Film blocks will go live on a rolling schedule starting 7 pm Friday Oct 8th with the last block going live at 9 pm on Sunday Oct 10th. All film blocks will continue to be available until 11:59 pm on October 12th to allow for more relaxed watching of everything on offer!
Regular non-deluxe packages and single day tickets for both the in-person and streaming event will go on sale soon! Subscribe to our newsletter to be notified when they're available, and also when the full film list and schedule is ready.