Tuesday, January 7, 2014 - 4:37pm
Kickstarter launching soon for Portland Festival!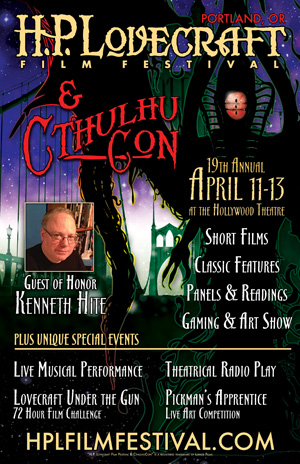 Last year, we created our very first Kickstarter, and your participation made the 2013 festival one of the most memorable experiences ever, both for us and for all of you! So, we've decided to do it again!
Last year, mostly because of the Kickstarter, we were able to show you Nightbreed: The Cabal Cut, introduce you to brilliant director Richard Stanley (and his amazing stories of living on a haunted Earth), bring Sandy Petersen to Portland to talk about games and movies (did you see his pre-Kickstarter Cthulhu Wars demo?), add a new gaming dimension to the festival, and pack more films and panels into the weekend than one person could experience... well, unless you were one of the critters using brain-swapping machinery and time travel.
Besides helping us raise necessary funds to properly plan the festival, Kickstarter did two very awesome things. It motivated us to offer really unique experiences to the community, and as a result it also enhanced the festival, creating a new kind of event where audience members took part in stage productions, helped us judge award-winning films, played Call of Cthulhu with the man who created it, and even appeared on screen and in fictions published in the Daily Lurker newspaper. It really helped us to get to know our community better, encourage audience interaction, and, in general, motivated us to up our game to a new level, all of which made the festival really exciting, not just for us, not just for our backers, but for everyone who attended. It was a real learning experience, too. We think we did some stuff well, and other stuff not so well (like opening the doors on Friday night or having all the backer rewards ready at the festival), but there is no doubt, Kickstarter made the whole festival awesome.
We've been working hard for the last several months, and we have some big announcements coming up. We've already talked Kenneth Hite (author of Cthulhu 101, Tour de Lovecraft, Where the Deep Ones Are, and the Trail of Cthulhu game) into being our Guest of Honor, and we're expanding our CthulhuCon activities to include open gaming, a new art show and artist's alley, author signing events, and much more. That's just the start though, and a lot of it is still super secret. You may be asking yourself "What is that violet light?" or "What do the words, 'Carb Loading for Cthulhu' mean?" Soon... soon it will all be revealed.
Our 2014 Kickstarter launches this month, with new exclusive backer-only merchandise, VIP access, and even cooler unique experiences than last year! To make sure you get an early crack at any limited reward levels, click here to sign up for our low-volume mailing list.