Sunday, February 24, 2013 - 5:33pm
Nightbreed: The Cabal Cut at Portland H.P. Lovecraft Film Festival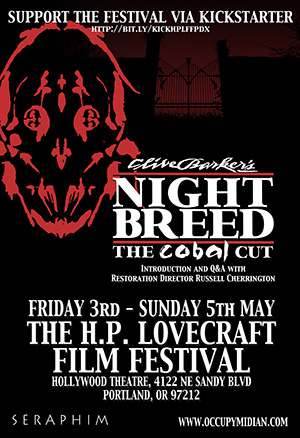 To see showtimes, click here to visit our schedule.
In addition to celebrating cinematic adaptations of H.P. Lovecraft and his contemporaries, the festival has a strong history of showcasing films by creators who have been heavily inspired by Lovecraft. We're proud to announce that we will be featuring the Pacific Northwest premiere of Clive Barker's Nightbreed: The Cabal Cut, presented by restoration director Russell Cherrington, who will also be available for Q&A.
Tickets for the festival will go on sale in early March, but you can reserve your place now to experience this amazing premiere by clicking here to support our Kickstarter campaign.
Only seen in a few cities in the US, this edition restores nearly an hour of footage that was previously thought lost and with it restores Barker's original vision for the film.
The original theatrical version of Nightbreed was removed from Clive Barker's directorial control and heavily cut and reworked by the studio, creating an extremely watered down monster movie for mass consumption. Restoring this film required not just the insertion of lost footage, but also voice dubbing by some of the original actors, including Doug Bradley. The Cabal Cut was directed by Russell Cherrington, Edited by Jimmi Johnson, and Produced by Mark Miller (Seraphim).
Don't miss the Pacific Northwest premiere of this landmark film restoration! For more information about the new version of this monstrous masterwork, visit Occupy Midian.