Monday, October 13, 2008 - 12:28pm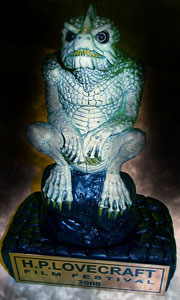 Still recovering after the festival but want to announce the winners officially. We'll be updating the awards section once we've re-coded the awards section.
2008 Deep One Screenwriter Awards
The following screenplays were selected as best of out of a field of 54 entries. The head judges were author Robert M. Price, author Joseph S. Pulver, and festival director Andrew Migliore.
Jeffrey Blake Palmer's nightmare parade "The Sleeping Deep" won first prize

Faisal A. Qureshi's eerie "In Bright Darkness" won runner up
2008 Howie Awards
Both of these gentlemen have used Lovecraft's works as a springboard and have incorporated elements of it into there own works creating something new.
Author Brian Lumley

Artist Mike Mignola
2008 Brown Jenkin Awards
The following films were some of the best at this years festival. Through a combination of guest judges, audience feedback, and festival director's input the following films were nominated , with the winners indicated:
Nominated for a Brown Jenkin